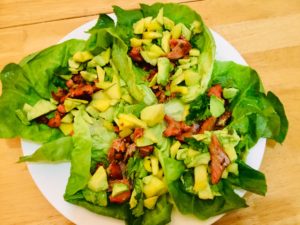 These Salmon Lettuce Wraps are again a recipe I found in "Clean Eating" magazine. This recipe is delicious. What I really like about it, it's filling yet it doesn't give you a heavy bloated feeling like when you eat something heavy or greasy. It's light and yummy! I can't wait to make this recipe again.
Salmon has many health benefits. It's rich in Omega-3 fatty acids. Salmon is one of the best sources of long-chain omega-3 fatty acids. It's a great source of protein, high in vitamin B, good source of potassium and loaded with selenium. Here are some health benefits to mango I didn't know. Mango helps is digestion, promotes healthy gut, boosts immunity, promotes eye health, and helps lower cholesterol. Avocado is loaded with heart-healthy monounsaturated fatty acids. I also learned that studies suggest cilantro can help remove heavy metals from your body. This is big since most people are unknowingly exposed to heavy metals on a regular basis. Here is the recipe!
MAKES 2 SERVINGS (4 WRAPS).
1 8-oz wild salmon fillet
1/4 tsp sea salt
1/8 tsp ground black pepper
1 tsp avocado oil
1/2 lemon, juiced
1 avocado, peeled, pitted and diced
1/4 cup chopped fresh cilantro
4 large butter lettuce leaves
Season salmon with salt and pepper. In a skillet on medium-high heat, heat oil. Add salmon and cook for 4 minutes per side. Drizzle salmon with lemon juice; flake salmon into pieces. In a bowl, combine avocado, mango and cilantro. Divide salmon among the leaves; top with avocado-mango mixture.