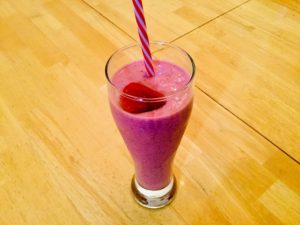 This is a smoothie recipe I found in "Clean Eating" magazine.  This smoothie is made with strawberries, which are a rich source of antioxidants and can help protect you against free radicals.  They support the immune system and may help with blood sugar regulation.   It's also made with banana, which provide a variety of vitamins and minerals such as potassium, magnesium, vitamin B6 and vitamin C.
I made this smoothie as a late afternoon snack.   It made me feel good knowing that I was adding these nutrients as part of my health journey rather than grabbing junk food.
MAKES 1 SERVING
Blend 1 cup of milk, ( I prefer unsweetened almond milk), 1 scoop protein powder, 1 cup frozen strawberries, 1/2 cup frozen banana and 1 tbsp. chia seeds with ice.