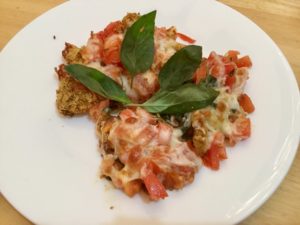 SERVES 4
I found this recipe in Clean Eating magazine.  Its a recipe by nutritionist, Jesse Lane.  This recipe contains all the same delicious flavor as regular bruschetta, but she's swapped out the refined white bread for protein-rich chicken to help keep blood sugar stable for sustained energy.
1 cup whole-grain bread crumbs
1/4 cup nutritional yeast
1 large egg
4 6-0z boneless, skinless chicken breasts ( I prefer chicken thighs)
sea salt and ground pepper to taste
2 large tomatoes, seeded and finely chopped
1/4 cup chopped fresh basil
1 clove garlic, minced
3/4 tsp balsamic vinegar
3/4 tsp olive oil
1 1/3 cups grated mozzarella ( goat cheese preferred)
1.  Preheat oven to 425 degrees fahrenheit.  Line a large baking sheet with parchment paper.
2.  Mix bread crumbs and yeast on a plate.  In a bowl, lightly beat egg.  Sprinkle chicken with salt        and pepper.  Dip chicken into egg then coat with bread crumb mixture.  Place on prepared sheet and bake for 15 minutes.
3.  Meanwhile, prepare bruschetta:  In a medium bowl, combine tomatoes, basil, garlic, vinegar and oil.
4.  Top each breast with bruschetta and cheese.  Bake until chicken is no longer pink inside and cheese has melted, 10 to 15 minutes more.
ENJOY!