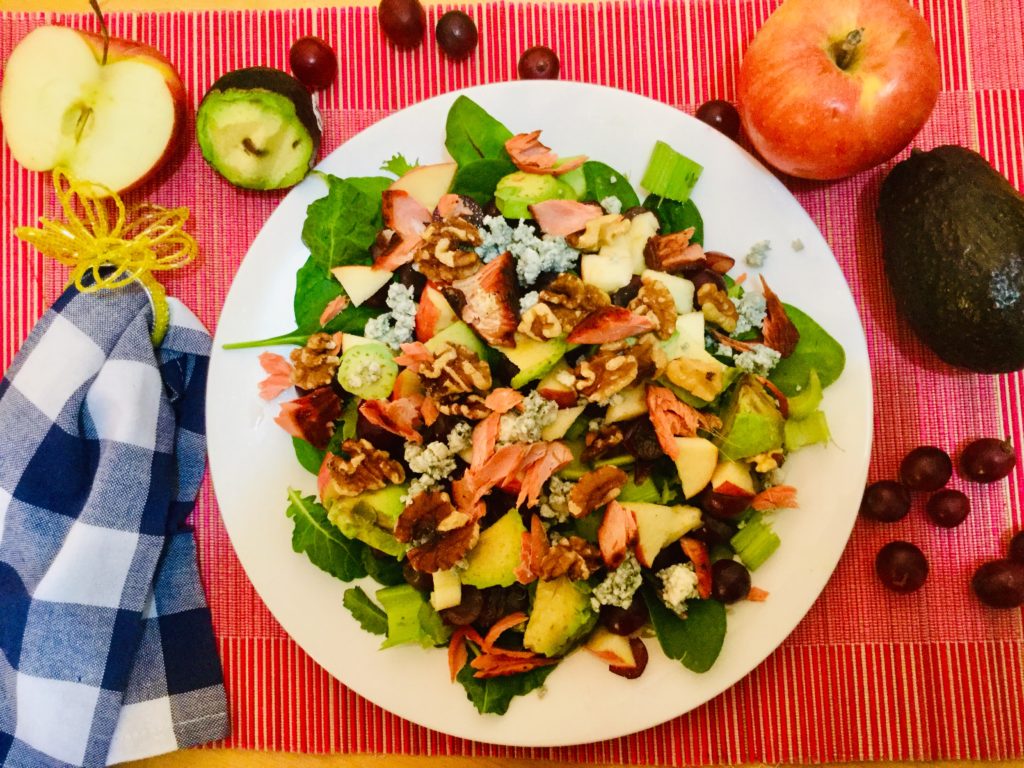 I love Waldorf salad made with fresh apples, celery, grapes and walnuts. I decided to make a waldorf salad made with wild caught salmon rather than chicken, which is what I usually add. I'm trying to get more salmon in my diet since salmon is rich in omega 3 fatty acids, which have been shown to reduce inflammation. lower blood pressure and decrease risk for disease. I eat wild caught salmon rather than farm raised salmon. According to the Cleveland Clinic, a small fillet of wild salmon has 131 fewer calories and half the fat content of the same amount of farmed salmon. Although farmed salmon may have slightly more omega-3 fatty acids, it also has 20.5 percent more saturated fat content; the fat you do not want.
Apples are nutritious, may be good for weight loss and your heart. They're even linked to a lower risk of diabetes.
Celery is loaded with essential vitamins and minerals such as vitamin B6, vitamin C and vitamin K.
Grapes contain powerful antioxidants known as polyphenols that are thought to have anti-inflammatory and antioxidant properties. One of these is resveratrol that is found in the skin of red grapes.
Walnuts are rich in antioxidants, a super plant source of omega 3s and may help to decrease inflammation.
I made this recipe with a versatile mix of power greens, tender baby spinach, mizuna, chard and kale.
Some health benefits of baby spinach include iron. A lack of iron in the diet can affect how efficiently the body uses energy.
I had never heard of mizuna before. Mizuna is high in Antioxidants, supports blood clotting, strengthens the bones, improves immune health, may reduce cancer risk and promotes eye health. Wow! this is a power packed super food. I will definitely be adding this in my diet more often.
Chard is packed with Disease-Fighting Antioxidants, loaded with fiber, excellent source of Vitamin K, and has heart health benefits.
Kale is loaded with powerful Antioxidants like Querectin and Kaempferol,,it is an excellent source of Vitamin C and can help lower cholesterol which may reduce the risk of Heart Disease.
Here's the recipe
Ingredient's
5 oz container of Simple Truth Organic Power Greens brand that I bought at Kroger.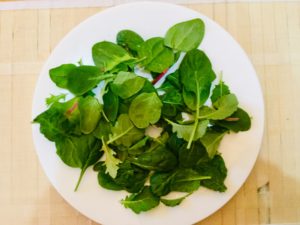 4 celery stalks, chopped.
2 organic Gala apples chopped
2 cups of organic red seedless grapes ( I cut mine in half but you can leave them whole if you wish.
1 cup walnuts ( chopped or leave whole)
1/2 pound wild caught salmon
1 avacado
I also add some Gorgonzola cheese
Directions
Heat a pan on medium high heat, add the salmon and cook until well done.
In a large bowl and the power greens, as little or as much as you like. I used about 1/2of the 5 oz Simple Truth Organic Power Greens mix.
add the red grapes, the chopped celery and the walnuts.
Use lemon juice to coat the apples, this prevents them from turning brown and then add the apples to the salad.
Slice one avocado and coat with olive oil to prevent the avocado turning brown and add to salad
I coat my salad with extra virgin olive oil and a little bit of red or white balsamic vinegar but you can use any salad dressing you prefer.
Add Gorgonzola cheese, as much as you want.
That's it! Easy! This is a delicious super food power green salad with many health benefits.
Yum!