I got this recipe from a friend of mine. It's chicken and pasta made with yellow squash and zucchini.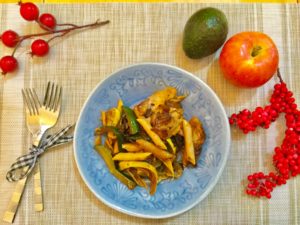 Squash is high in vitamins A, B6, and C, folate, magnesium, fiber, riboflavin, phosphorus and potassium. Yellow squash is also rich in manganese. This mineral helps to boost bone strength and helps the body to process fats and carbohydrates. Wow! That is one power packed vegetable!
Zucchini is very low in calories. It could help fight cancer and infections. Zucchini is great for the hair and skin and can help improve heart health and may improve brain function.
Chicken is rich in protein. It's a great source of lean, low fat protein which contribute to muscle growth and development. Even chicken broth has health benefits. It helps reduce joint pain and inflammations. It helps improve skin, hair and nails and improves bone growth and repair.
Here is the recipe
Chicken Squash
4 boneless, skinless chicken breasts ( I used 6)
1 tbsp. olive oil
garlic
onion ( I used about 1/2 a white onion)
1 small yellow squash, sliced or cut into strips
1/2 to 1 cup chicken broth
1/2 cup whole grain pasta, al dente
salt to taste ( I used low sodium soy sauce)
Cook pasta to al dente.
Saute chicken in olive oil. garlic and onion. When the chicken is almost done, add the squash, chicken broth and pasta. Simmer on low until the squash is tender. Serve with the pasta.