Hi there,
I love fall, cool crisp air, fall colors, the smell of wood burning in the fireplace, and of course "pumpkin,"  Pumpkin is one of my favorite flavors.    When I saw a recipe in, "Clean Eating," magazine for pumpkin spice pancakes made in the blender, I knew I just had to try it.   I've never made pancake batter in a blender before, I thought it was a great idea to use a blender to make pancake batter, especially since getting the mixer out is not my favorite thing to do 🙂    Here are my Blender Pumpkin Spice Pancakes.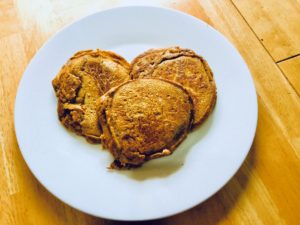 These pancakes are delicious.   I had them for breakfast every morning before work and they were very filling and helped me to get through the day until I had time to eat again ( which I never know when that will be) I will definitely be making them again.  Pumpkin also has health benefits. It's rich in vitamin A, a nutrient that is key for keeping your eyes, skin and your immune system healthy.
Here's the recipe and nutrient information:
Pumpkin Spice Pancakes
serves 6
2 large   eggs
2 cups    white whole wheat flour ( I used regular whole wheat)
1 1/2 cups  whole milk ( I used unsweetened vanilla almond milk)
3/4 cup  unsweetened pumpkin puree
1/4 cup  unsalted organic butter, melted
2 tbsp  organic evaporated cane juice
1 tbsp  baking powder
1 tsp  pure vanilla extract
1 tsp  ground cinnamon
1/2 tsp  ground cinnamon
1/2 tsp  ground ginger
1/4 tsp  sea salt
1.  To a blender, add all ingredients and blend until smooth and thoroughly mixed, scraping down sides of blender with a rubber spatula if necessary.
2.  Heat a nonstick griddle over medium-high and spray with cooking spray.  Working in batches, pour a scant 1/4 cup batter per pancake, making 3-inch circles; cook until small bubbles appear and burst on the surface and the underside is golden brown, 1 1/2 to 2 minutes.  Flip pancakes and cook until golden on opposite side, 1 to 1 1/2 minutes more.
3.  Top with original toppings such as thinly sliced apple, walnuts, a dollop of whipped cream and a drizzle of maple syrup, if desired.
per serving (3 pancakes)
Calories: 299, Total Fat: 12 g, Sat Fat: 7 g, Monounsaturated Fat: 4g, Polyunsaturated Fat: 1 g, Carbs: 35 g, Fiber: 5 g, Sugars: 9 g, Protein: 10 g, Sodium: 408 mg, Cholesterol: 89 mg
Note:  Pancakes can be made ahead and frozen in an airtight container with parchment paper between the layers and then reheated in a toaster.
I love these pancakes, they're delicious and filling.  Enjoy 🙂